Easy
Converting Microsoft Publisher documents into PDF normal files couldn't be any easier. Simply open the PUB file you want to convert into PDF file and click the "Save as PDF" button in the Microsoft Publisher toolbar, Publisher to PDF Converter quickly re-creates your PUB file as a fully formatted PDF files.
Fast
Get the job done in seconds or minutes, not hours or days. Publisher to PDF Converter eliminates the need to re-key and re-format PDF documents, saving you both time and money.
Accurate
You will be amazed at the results you get from Publisher to PDF Converter. It accurately retains the layout of the original PUB file. Converts text in over 100 languages and separates graphics from tables and text.
Powerful
Now you can do more than view PDF files. Document Format (PDF) is the fact standard for the secure and reliable distribution and exchange of electronic documents and forms around the world, and now you can convert any Ms Publisher documents into professional-quality PDF file format only by one click.
STEP ONE: Download Publisher to PDF Converter
Now you're ready to download the pub2pdf2_setup.exe from one of the download sites and save it to your hard disk.
Download pub2pdf2_setup.exe From North America1, North America2, Europe
STEP TWO: Installing Publisher to PDF Converter
Once you have downloaded pub2pdf2_setup.exe, you are ready to install it. To start the installation process just double click on the setup file. The installation program will be started automatically and guide you throuht the installation process.
STEP THREE: Setting up MS Publisher to lauch Publisher to PDF Converter
a) Start Microsoft Publisher
b) On the Tools menu, choose Options…
c) Click the Security tab
d) In the Macro security section, click the Macro Security… button
e) Click the Trusted Publishers tab
f) Check "Trust all installed add-ins and templates"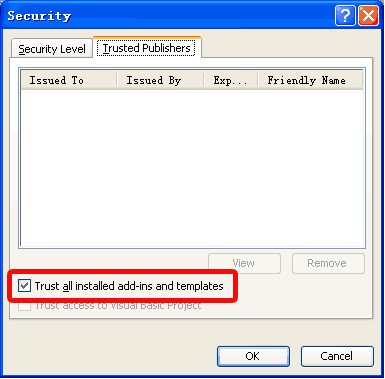 g) Click OK to leave the Security dialog box
h) Click OK to leave the Options dialog box
i) Restart Microsoft Publisher